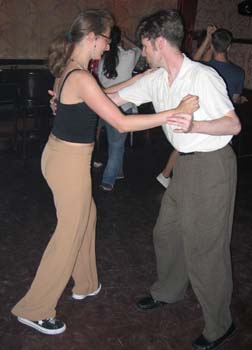 Photo: Dan Ingster
The Trailer Park Trio can have up to six members making it one of the largest trios in existence!
The band is steeped in Old Tymey Popular and Swing music from the 20's, 30's, 40's and even a new fangled 50's song every now and again. Click here to listen to some of our music
There's no mistaking the Trailer Park Trio sound - two powerful singers with harmonies and a tight band that will make people dance, dogs bark and children laugh!
Prices vary depending upon the number of players, distance traveled and length of time played. Click here for a quote
We play special events, weddings, parties,
inauguration ceremonies, and any other type of get together where there might be someone tapping their foot.

The band plays 45 minute sets with a 15 minute break between sets.
We will be glad to learn special songs if they are in keeping with our idiom of old tymey music.
We typically don't play many traditional wedding songs, however.
If you ask, we'll dance with your dates.
Please ask us about arranging swing dance lessons - a great ice breaker!
Some places we've played: Caesar's Casino Atlantic City, Beau Monde Phila, PA, Jack's Firehouse, Phila, PA, The Five Spot Phila, PA , Showboat Casino Atlantic City, Philadelphia Art Museum, The Pilot House, Phila, PA, Goat Hollow, Phila, PA, Aldie Mansion, Passerelle Restaurant, Penn Club, NY City, Donna's, New Orleans, LA and many more.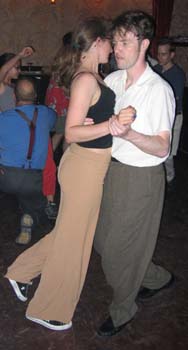 Photo: Dan Ingster